Construction manager Bill Schaerer and travel publisher Dave Marsh have been friends since their high school days in Johannesburg.
IT STARTED IN THE KAROO
Both of them have travelled extensively, but the one holiday that has stood out for both was at home in South Africa cycling with friends through the Karoo surrounded by the wild game in nature reserves.
With the only sound of the soft crunch of the wheels in the sand, they covered a lot of ground and saw a lot of game in natural wide-open spaces. It was a soulful experience.
The problem was that they were then sixty years old and some had not been on a bicycle for 40 years. Pedalling up to 50 km a day was a challenge. The tour was set up for people who cycled regularly.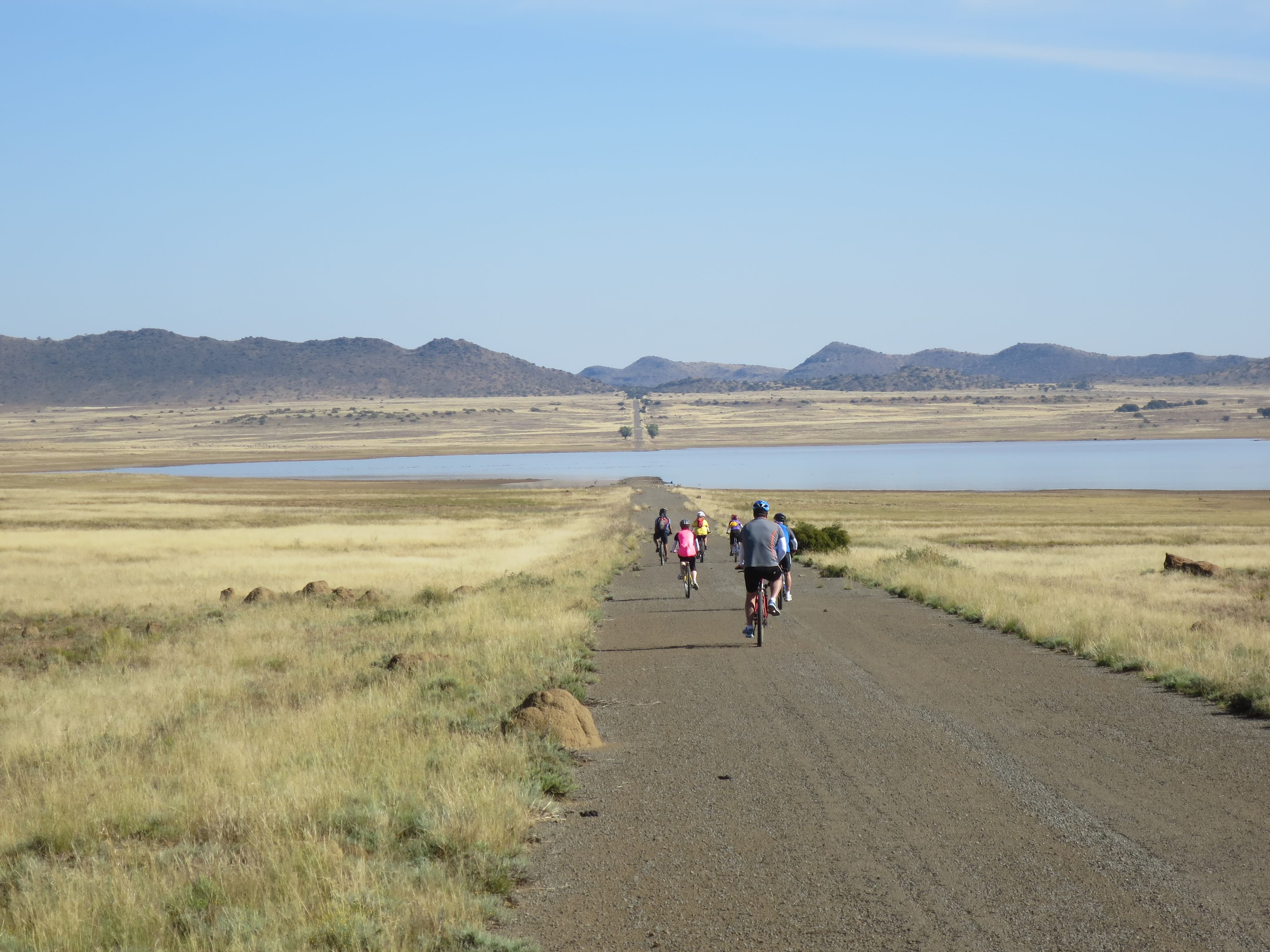 The open spaces of the Karoo were inspiring
KNYSNA WAS AN EYE OPENER
Then came planning a trip with another group of friends through Tuscany. This time everyone was going on e-Bikes. Dave and his wife went down to friends in Knysna to try out e-Bikes in preparation.
What a difference. Neither of them are athletes and there they were eating up the kilometres without much sweat.
With the realization that e-Bikes make the world seem flat, it dawned on Bill and Dave that they could put back in a way that was important to them. Sharing the exhilaration of e-Biking in natural surroundings. Doing it in a way that benefits the local community and conservation.... and it is something Gauteng needs more of – a fresh experience.
One Reserve recommended by the mountain bike clubs for having the best nature and game in Gauteng and being very accessible was Groenkloof Nature Reserve in Tshwane. Less than five minutes from the closest high-speed Gautrain station in Pretoria and just off the highway to Johannesburg, it is perfect for half-day experiences and easy to be included in the popular Pretoria tours.
Thus, was born a new experiential activity in Gauteng.
Covid 19 stopped things in their tracks. But with that came time to plan.
This super-efficient tourism e-commerce platform hosting our website was set up for us by Go4IT Africa. Their CEO, James Elstob, had been urging us to also start something in Cape Town as a natural fit for our brand.
A WILD CHILD
We turned to a Cape-based friend. Dave and Bill knew Beth van der Walt since she had grown up motoring rough across the mountains of Lesotho on quad bikes with her father, another old school friend. Beth had gone on to get a degree as well as a tourism diploma and immersed herself in tourism marketing and sales. She moved to Cape Town and worked for a destination management company specialising in the Benelux and French markets.
Beth and her husband Ross advised on routes and what the overseas market wanted to such an extent that when it became clear that we should go ahead with a three-day program to "e-Bike the Cape's Big 3 Icons", it was natural to bring her in as a partner to run Cape operations.
Below: Teenager Beth and her dad in the mountains in 2006